An Introduction of
Directorate of Employment and Craftsmen Training, Assam
Skill, Employment & entrepreneurship department, govt. of Assam
The Directorate of Employment & Craftsmen Training, Assam under the Ministry of Skill, Employment & Entrepreneurship, Govt. of Assam have three wings namely.
1. Craftsmen Training scheme
2. Employment Service scheme
3. Apprenticeship Training
This Directorate is providing training avenues through different ITIs of the state under Craftsman Training Scheme of Government of India, with the following objectives:
1. To provide semi skilled/skilled workers to industry by systematic training.
2. To reduce unemployment among educated youths by equipping them with suitable skills for Industrial Employment & self Employment.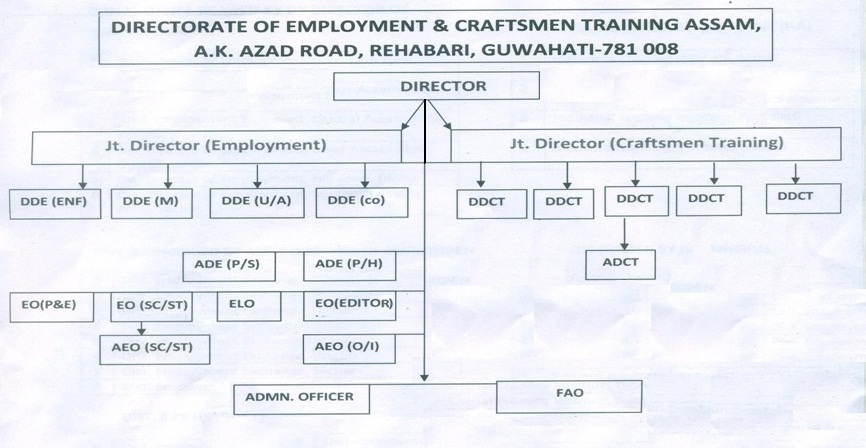 An Introduction of
State Council for Vocational Training (SCVT), Govt. of Assam
State Council for Vocational Training (SCVT), Govt. of Assam is the affiliating body of ITI colleges/institutions. The Mark-sheets and Certificates are issued by this body only.
The State Council for Vocational Training is managing the ITI colleges/institutions in the state & provides technical trained manpower in various fields of Engineering & Technology conducting the examination, evaluation & publishing results of all colleges are the sole responsibility of SCVT. The main mission of SCVT is to promote quality & innovation in technical education & vocational training and upgrade the technical institute into the centres of excellence of world standard through user friendly course curriculum.
Director General of Employment & Training (DGET) under the directions of National Council of Vocational Training (NCVT) which is the apex body at Government of India level for coordinating development of Vocational Training in the country. The NCVT certificates are issued to the passed out trainees of NCVT trades. Similar to the National Council for Vocational Training at Central level, State Council for Vocational Training (SCVT) at the State level is responsible for coordinating an integrated development of Vocational Training. The SCVT certificates are issued to the passed out trainees of SCVT trades.
Craftsmen Training Scheme
The Craftsmen Training Scheme (CTS) is a major scheme catering to the need of school-leavers and forms the backbone of the National Vocational Training System of the country. State government departments deliver vocational training to 10th pass through ITIs.
Industrial Training Institutes (ITIs) are under the administrative and financial control of the respective State Governments.
The objectives of the Craftsmen Training Scheme are:
1. To equip the human resource with appropriate skills required in the labour market.
2. To make the youth more productive by providing them employable skills to achieve wage benefits as well as self-employment.
3. To produce highly skilled craftsmen for the industry.
4. To ensure steady flow of skiled workers for industry/service sectors.
5. To raise the quality and quantity of industrial production by systematic training of potential workers.